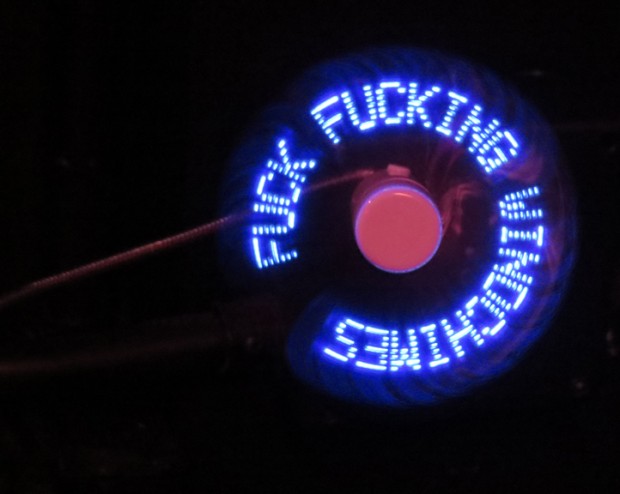 My piece Fuck Windchimes for the International Invitational Triennial of Contemporary Windchimes at Rocksbox Fine Art appeared on Oregon ArtsWatch.
"Randomness also seems to be a vital component in South's piece A small, black plastic fan like one in a personal computer spins at a high rate of speed. The speed of the fan provides a "surface" of sorts and allows for a projection of various sequences containing three words: "Fuck Fucking Windchimes," all in capital letters. Sometimes it reads "Fuck Windchimes," sometimes "Fuck Wi" or other segments of text, and sometimes the words or parts of words flicker in and out. The whole phrase is displayed much less often than the other manifestations, and it was while waiting to photograph the complete phrase that I came to a full appreciation of the irregular "rhythm" of the piece and therefore the frustrated tone of the title. I suppose some people rely on the gratification a steady melody brings."
Really great show of  60 awesome artists and friends, up until April 27th.